Description
CARBON TRUST (UK)

The carbon footprint of this product has been measured and certified by the CarbonTrust
DUAL Inverter Compressor™ With 10 Year Warranty
LG's DUAL Inverter Compressor™ solves improper, ineffective and noisy problems, resulting in an air conditioner that cools faster, lasts longer, and runs quieter. With the 10year warranty on the compressor, users can enjoy the benefits of LG air conditioner for a longer period of time.
Verification obtained from TUV Rheinland for 10-year product life cycle.

TUV Rheinland, Verification on Fast Cooling & Power Saving Rate
(US-W242Kxy0/TS-H2465DA0).
Fast Cooling & Energy Saving
Inverter Compressor constantly adjusts a compressor's speed to maintain desired temperature levels. Moreover, DUAL Inverter Compressor™ with power saving operation range frequency saves more energy than conventional compressor. Thanks to the DUAL Inverter Compressor™, air is expelled farther and faster.
DUAL Inverter Compressor™
Compressors on typical air conditioners turn off and on in order to adjust the temperature, consuming a great deal of energy. Inverter Compressor constantly adjusts a compressor's speed to maintain desired temperature levels. This minimal fluctuation saves energy and ensures greater cooling comfort.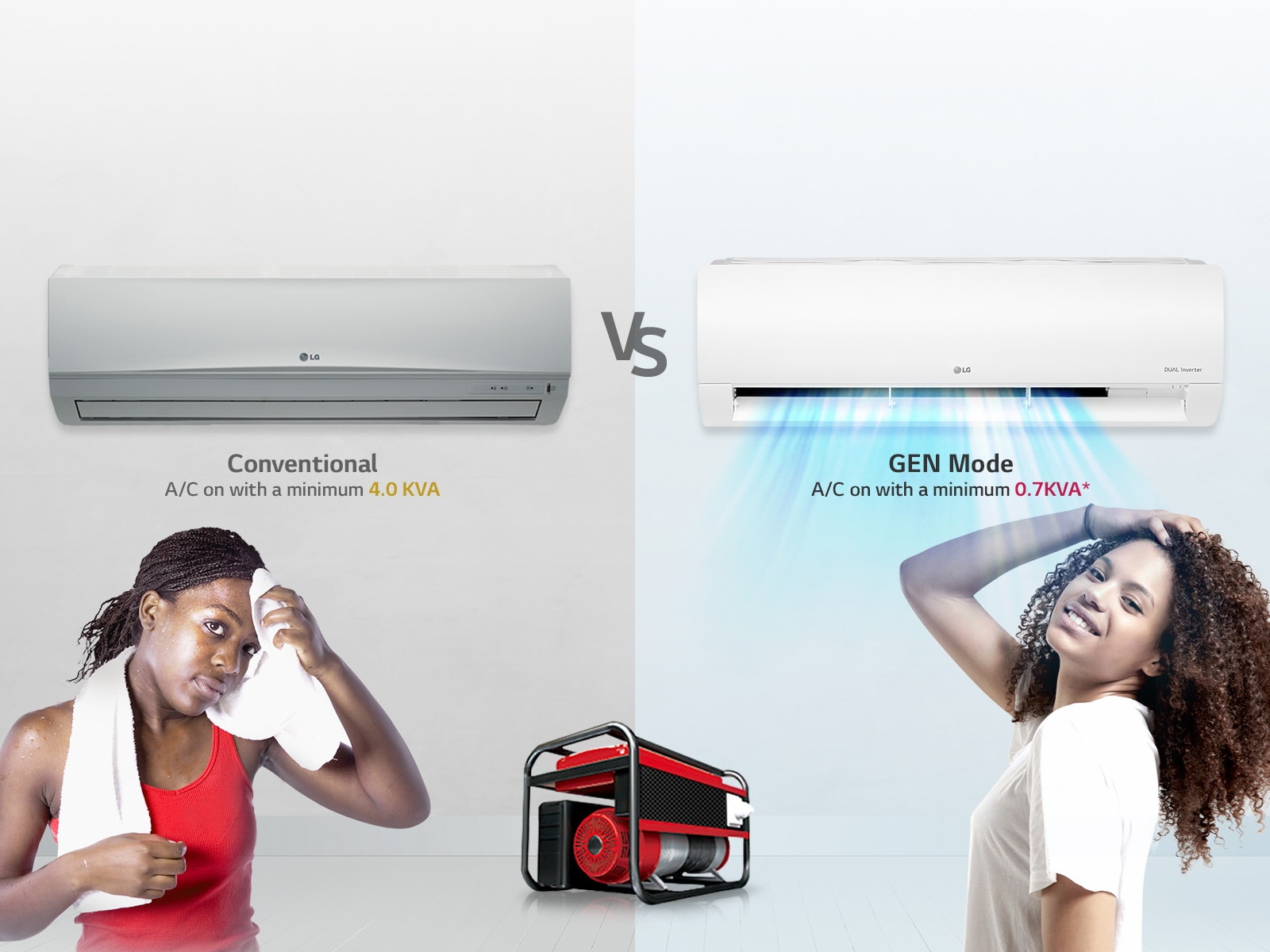 GEN Mode
GEN Mode function allows the Air conditioner to operate at lower power levels. Thus, home appliances can be used with air conditioners without disruption.
*Minimum 0.7KVA is based on a 9k BTU Air conditioner.
Low Noise
LG air conditioners operate at low sound levels, thanks to LG's unique skew fan and DUAL Inverter Compressor™ which eliminate unnecessary noise and allow for smooth operation.
Volt Care
Volt Care protects an air conditioner from potential damage caused by voltage fluctuations. It is composed of LVS(Low Voltage Starter), AVS(Automatic Voltage Switcher), and HVS(High Voltage Safe) technologies. LVS and HVS protects the unit from low and high power supply and AVS allows for stable operation during voltage fluctuation range.
Simple and Slim Design with Hidden Display
LG air conditioner's slim and modern design makes easy installation and convenient cleaning with EZ sliding filter. Moreover large hidden display is perfect for checking your energy display conveniently.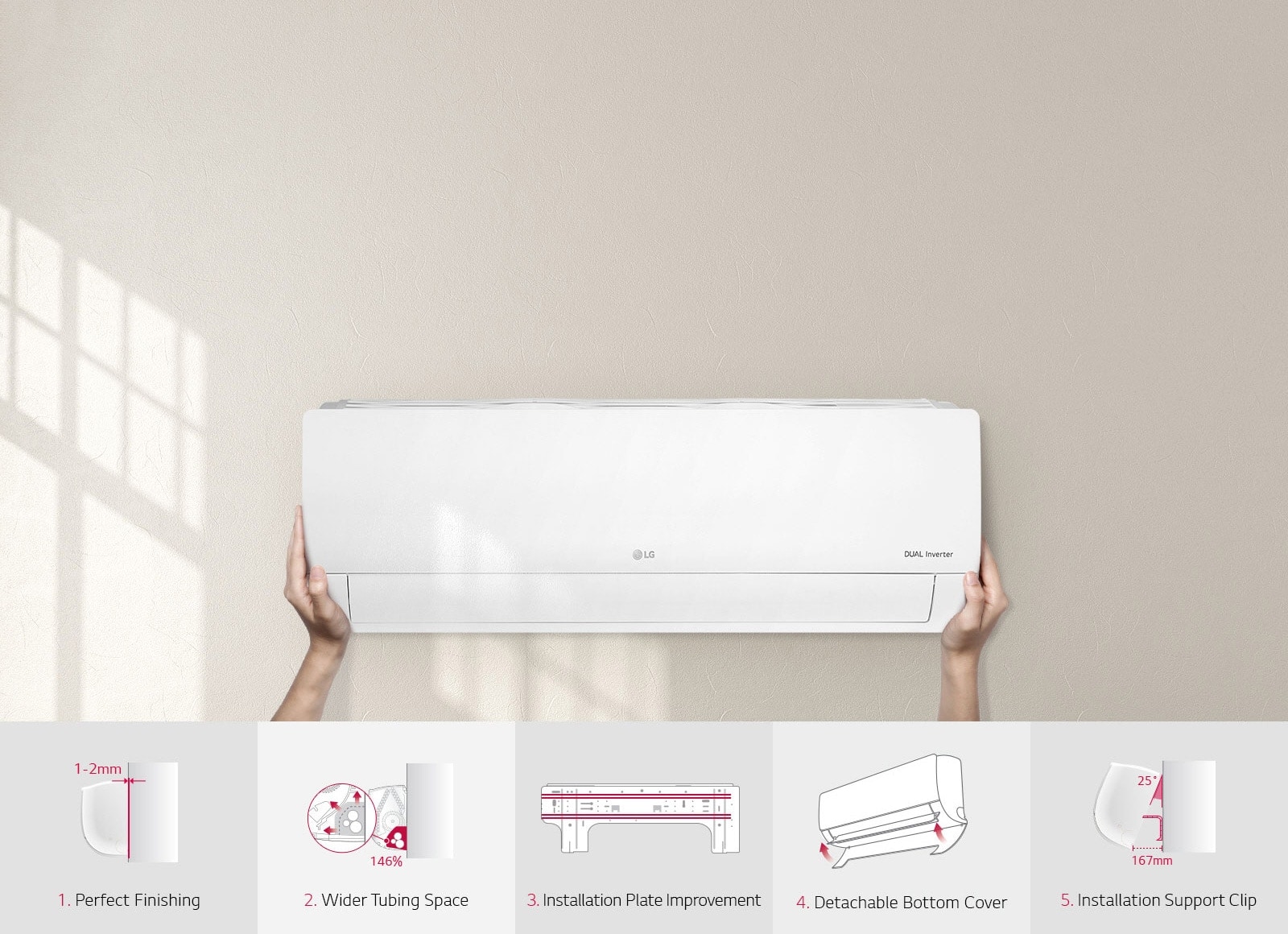 Quick and Easy Installation
LG air conditioners are designed for easier and more efficient installation, regardless of the surroundings and the number of persons involved in the installation process. By reducing the manpower and time required for installation, it is now possible to install more air conditioners at more homes in a shorter period of time.
Gold Fin™
The Gold Fin™ ensures that the surface is more resistant to corrosion and enhances the durability of heat exchanger for a much longer period.
Vertical 6 Steps Louver Control

Users can choose the vane direction among 6 preset positions to meet the exact wind blow direction you desire.

The comprehensive auto cleaning function prevents the forming of bacteria and mold on the heat exchanger and thus provides a more pleasant and comfortable environment for the user.
Dual Protection Filter

The Dual Protection Filter captures dust size over 10㎛ and bacteria.
In Silent Mode, the overall sound level of the outdoor unit drops by up to 3dB and the sound level of the indoor unit also decreases.

Comfort Sleep mode ensures the utmost comfort sleep environment by automatically adjusting 3 different functions (Indirect airflow/7hr off time set/Soft wind & sleep time logic), with one click.
DIMENSIONS
SPEC SUMMARY
CAPACITY

1.5HP

DIMENSIONS (W X H X D)

837 X 308 X 189

COMPRESSOR

Dual Inverter

FEATURE

Energy Saving