Haier Thermocool HTF-379TS SLV – 379L Turbo Inverter Chest Freezer, up to 50% Energy Saving, Lid-Installed Fan, Electronic Control, Super Fast Freezing from 5 Sides, 120 Hours Frozen After Power Outage, LED Lighting, Door Lock, External Handle
₦444,000.00 (-4%)
Up to 50% Energy Saving
Turbo Freezing Speed
120 Hours Frost Retention
Stabilizer Free Operation
Electronic Temperature Control
Bacteriostatic Inner Liner
Removable Bacteriostatic Door Seal
Product Warranty
Compare
Haier Thermocool's energy efficient freezer with superior inverter technology enables saving of up to 50% energy and money and the large storage capacity enables you do bulk purchase without worries about wastage. Enjoy peace of mind with Nigeria's No.1 Freeze Master.
Power-saving technology making the product more energy-saving by cutting energy consumption by half versus any regular freezer.
120 Hours Frost Retention
Built with ultra-microcellular high density foaming that keeps food frozen up to 120 hours after power outage.
The 5 side freezing of the freezer plus the turbo fan strong freezing air, enables the foods to pass through the ice crystal formation zone more quickly so as to keep food fresh and reduce nutrition loss.
Stabilizer Free Operation
Frequency conversion compressor that operates with no need of voltage stabilizer, thus delivering voltage ranging from 130V to 260V).
(It is however advised to use a stabilizer if your residence area experiences more frequent voltage surges.)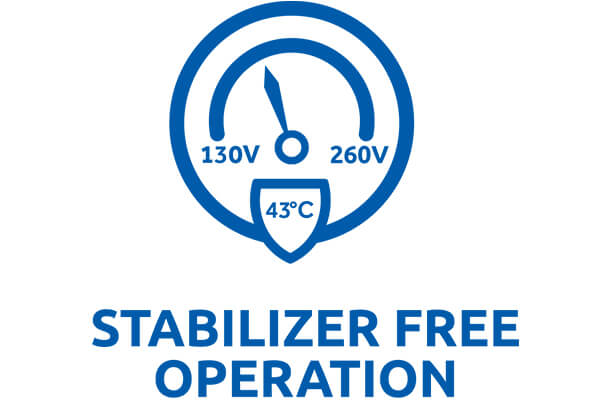 Electronic Temperature Control
More intelligent and convenient temperature control:
One-button quick freezing
Temperature setting display
Over temperature alarm
Bacteriostatic Inner Liner
Protects against bacterial growth and reproduction; prevents secondary contamination and reduces stains and odours caused by bacterial growth.
Removable Bacteriostatic Door Seal
Removable, mould-proof, mildew resistance ring guard at the door of freezer for enabling good hygiene and ease of cleaning.
Product cabinet and compressor under 5 years warranty cover.