Description
LG Soundbars Are the Best Match With LG TVs
LG Soundbars match perfectly with LG TVs to enhance your entertainment and interior.

The soundbar's power, volume, and sound modes can be controlled with only an LG TV remote.

LG Soundbars produce better sound with the upgraded 2021 LG TV AI Processor.
Designed To Be the Perfect Set
The matching designs of LG Soundbars and LG TVs are made to complement your home as well as each other. Every design element has been carefully considered so that they become a part of your interior and add style to your space.
Convenient Control With One LG TV Remote
Make the most of features that have been developed for ultimate compatibility. You can control the soundbar's power, volume, and even sound modes with only an LG TV remote — that's convenience turned up to max.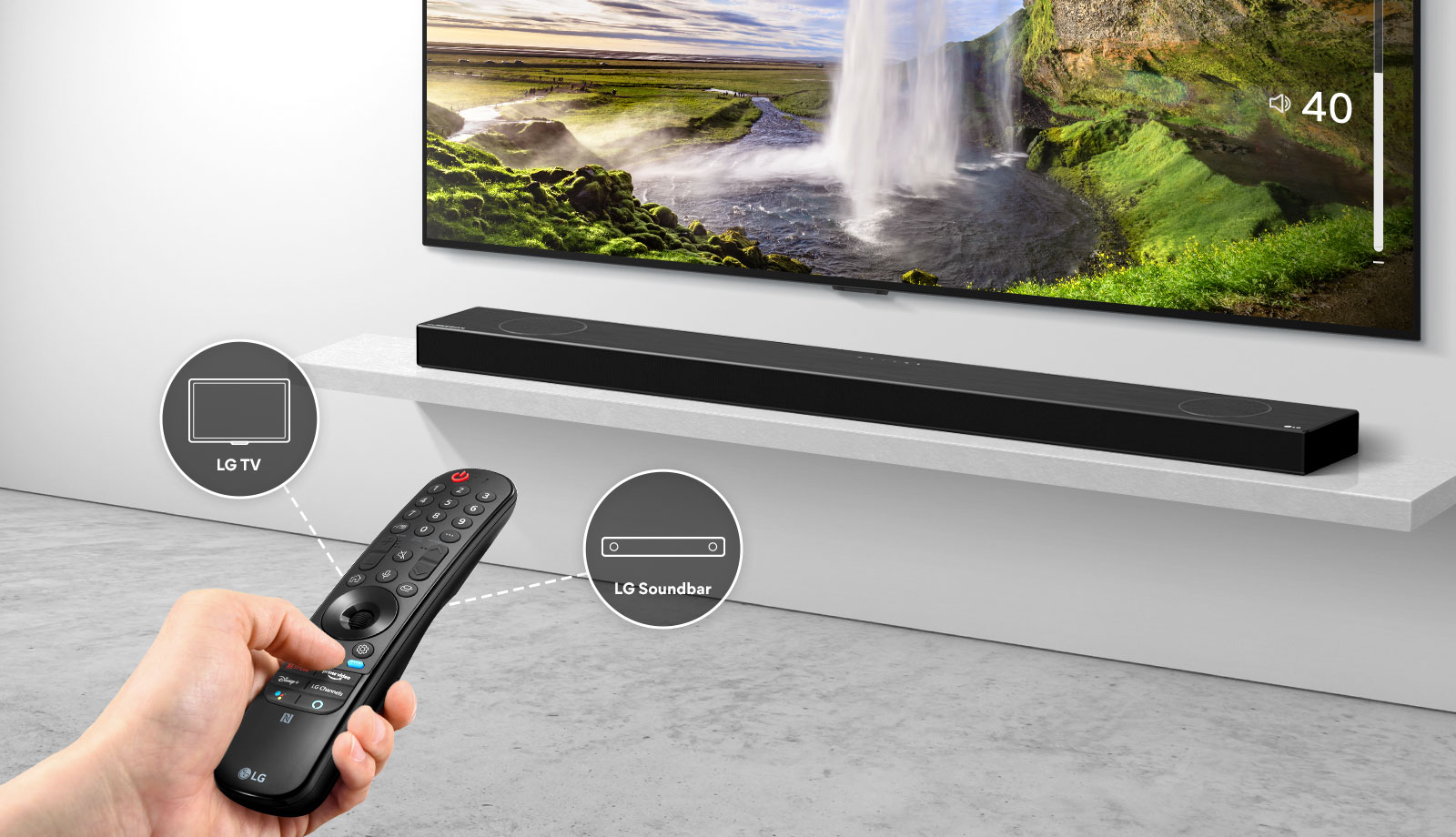 *Soundbar Mode Control may vary by Soundbar models.
**LG TV Remote usage is limited to certain features only.
Upgrade Your Soundbar With Your LG TV's AI Processor
The upgraded 2021 Alpha 9 AI Processor helps your LG Soundbar to produce better sound. TV Sound Mode Share allows the soundbar to use the TV's processing power and AI Sound Pro to make everything you hear clearer and more consistent, even from different content sources. Only an LG Soundbar and LG TV combination lets you experience your TV at its best.
*TV Sound Mode Share may vary by TV models.
LG Soundbar Elevates LG TV's Sound
A prestigious British audio brand that provides innovative and elegant audio solutions.

5.1.2 Ch Dolby Atmos & DTS:X

Immersive and realistic audio brings movies and music to life on LG TVs.

Sports and gaming sound modes enhance your viewing and playing experience with LG TVs.

Sound tailored for content provides a more immersive experience with everything you watch.
Creating Better Sound Together
Since 1977, Meridian has delivered innovative and elegant high-performance audio solutions that have redefined how people enjoy their music and movies. As the pioneer of High Resolution Audio and the master of Digital Signal Processing (DSP), they have played an integral role in the development and adoption of pioneering technologies.
High-Resolution Audio
LG Soundbar SP9A delivers 24bit/192kHz High-Resolution Audio. This produces more accurate sound reproduction so you hear everything as you're supposed to.
Truly Immersive 5.1.2 Channel Sound
5.1.2 Channel Audio, 520W power, and a subwoofer – LG Soundbar SP9A is the complete package with powerful and immersive audio for an upgraded surround sound experience.
The Immersive Power of Dolby Sound With LG Soundbars and LG TVs
Dolby Atmos and DTS:X place sound all around you for a more realistic audio experience. All your movies and music are brought to life with sound that's clearer and more immersive.
*SP11RA, SP9A, SP8A, and SPD7 feature Dolby Atmos and DTS:X. SP7 feature DTS Virtual:X.
A New Dimension of Immersive Audio With Dolby Atmos
Dolby Atmos Music allows sounds to be precisely placed, transforming your listening experience by adding dimensionality for a fuller audio atmosphere. This greater sense of space and depth allows you to listen to your favorite music in a whole new way. You'll discover hidden details with unparalleled clarity, and hear every emotion just as the artist intended. You can enjoy the benefits of Dolby Atmos Music on streaming services like Amazon and Tidal, and many other Blu-ray Music titles.
*Dolby Atmos may vary by Soundbar models.
Power Up Your Game Sound on LG Soundbars and LG TVs
Dolby Atmos transforms your game audio by accurately projecting sound all around you for a more immersive, three-dimensional gaming experience. Many XBOX and PC titles are already compatible so you can start playing now.
*Dolby Atmos may vary by Soundbar models.
New Sound Mode Makes All Your Favorites More Immersive
LG Soundbar SP9A comes with its own proprietary sound modes that you won't find on other soundbars. They have been specifically developed by LG for voices, gaming, and sports – so sound will be at its best, whether you love to watch or play.
Sound Suited To Your Space
AI Room Calibration determines the best soundbar configuration for your space. Install your soundbar knowing it will also correct fine sound distortion from objects in your room in only 15 seconds.
Upgraded AI Sound Pro With LG Soundbars
Adaptive audio uses an upgraded algorithm to identify voices, effects, and frequencies then optimizes the sound by genre for a more immersive experience with every scene.
Use the Platform of Your Choice
LG Soundbars now have the compatibility to work with more AI services.You can easily control the LG Sound Bar with the platform of your choosing.
*SP11RA, SP9A, and SP8A, feature AI Multiple Connectivity.
**Multiple AI Connectivity is not available in certain languages and countries.
***Available AI connectivity may vary by languages and countries.
****Google is a trademark of Google LLC.
*****The Google Assistant is not available in certain languages and countries.
******Amazon, Alexa and all related logos are trademarks of Amazon.com, or its affiliates.
*******AirPlay is a trademark of Apple.
Audio Connection With No Compromise
HDMI eARC (Enhanced Audio Return Channel) allows lossless transmission of uncompressed 5.1 ch and 7.1 ch audio, and even HBR(High Bit Rate) audio such as Dolby Atmos® and DTS: X® on compatible TVs.
4K Content Seamlessly in-Sync
The LG Soundbar SP9A delivers 4K content, including HDR and Dolby Vision, with minimal loss to quality or performance for a fully connected TV & audio experience.
Choose the Soundbar That's Right for You
Meridian, High-Resolution Audio, 7.1.4ch Dolby Atmos & DTS:X

Meridian, High-Resolution Audio, 3.1.2ch Dolby Atmos & DTS:X

Meridian, High-Resolution Audio, 3.1.2ch Dolby Atmos & DTS:X
Experience the new Wi-Fi audio dongle for your Sound Bar